Lucky's story is a sad one and, unfortunately, an all too common reality we see every day in cat rescue...
Lucky had a sister who he was bonded with from birth.  After  living as indoor cats for some time, they were dumped outside and left to fend for themselves on the streets of East Orange, New Jersey.  They had no food, no shelter, no colony to call their own.  All they had was each other.  But when Lucky's sister inevitably became pregnant, she was trapped by a local animal welfare group and taken into rescue.  While that was very fortunate for her, Lucky was left behind, alone, terrified and in distress over the loss of his beloved companion.
There was a kind woman in the area who fed the colonies.  Most often, though, the neighborhood cats would bully Lucky and chase him away, never leaving him a single scrap.  He would then come to her door begging, as seen in the image below.  Her heart broke for him, as did mine when I saw this picture. She named him "Fluffy," although we would not come to realize why that was until much later.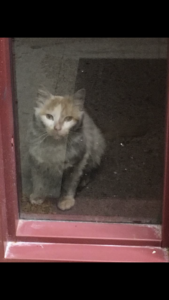 A rescue friend named Kathy posted a very sad picture of this scrappy and sad-looking cat, pleading for someone to step up and help him, so that's what we did.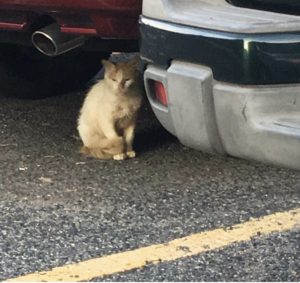 We got him trapped, neutered, vetted and treated for the many parasites riddling his fragile little body. Every tooth but one had to be removed due to infection and decay. He had scrapes and bruises all over his body from the beatings he took by the colony cats and from the dangers he'd faced trying to find food while struggling to survive. Life had not been easy for this poor fellow up to this point, but we decided to name him "Lucky" because he was finally getting a chance at the life he deserved, a life without any more pain or suffering.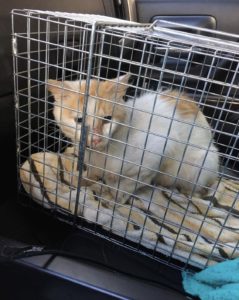 Lucky began the process of recovery.  For the first time in his life he ate good-quality, nutritional food (as much of it as he wanted), wet and dry.  He had shelter and a warm place to lay his head and feel safe.  He had a feline friend, Lily, and he was truly flourishing.
Unfortunately, Lucky's history made him much too fearful of humans to live indoors again.  It was a gripping fear that often made us wonder what this poor boy had actually been through. Whatever it was, it wasn't good.  Although we longed to touch him and have him feel the warmth of a loving human hand, we knew that wouldn't be possible, so we simply adored him from afar.
Watching his transformation, to this day, was THE most rewarding and amazing thing to witness.  His coat grew incredibly thick, his eyes shined strikingly bright green, his dry, pale nose had turned a beautiful pink and his sweet personality started to make its way to the surface.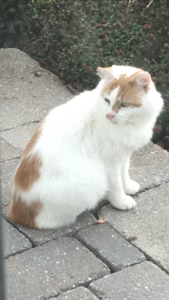 He enjoyed the peacefulness of the country life he was now living, where there were no loud automotive noises to scare him, no people or other cats terrorizing him.  It was just him, the birds chirping and the rays of the sun.  It was beautiful to see him so relaxed as he sprawled out in comfort, to watch him run and chase a bug or a leaf... We often said,  "He must feel as though he's died and gone to heaven."
We really did grow to love this special guy, but, as I said, it was from a distance.  Our stoop gets the most sun, so occasionally we'd find him basking in its warmth just outside the front door.  At those times we'd all run to look out the sidelight windows to catch a glimpse of him up close.  He was absolutely stunning!
Lucky was an adult when we rescued him. Unfortunately, he did not live very long with us before his organs started to fail him.  We noticed his weakening body and knew when it was time to step in.  We brought him to the best hospital around, but, even with their expertise, there was nothing they could do to help him.  It was time to say "Goodbye" to our friend.
The doctor said they had sedated him a bit and asked if we would like to "HOLD HIM" while they administered the injection that would bring him the peace his body needed.
So that's what we did...  We held him, we petted his beautiful long fur, we told him we loved him, that his life had so much meaning and that he'd made a difference and an imprint on ours.   In his last moments of life he finally got to feel the warmth of a loving human hand.
We dedicate our rescue to Lucky and all the cats we've loved before him who have crossed over the Rainbow Bridge.  Our hope and our goal is to ease the suffering of homeless cats so they, too, can experience the good life, so they, too, can be some of the "Lucky" ones.